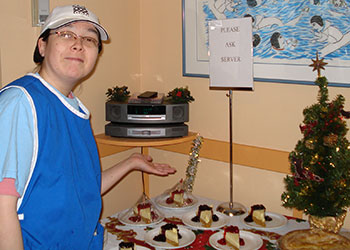 The Nunamiut Lodge Hotel features excellent dining for hotel guests and the community.
Superb meals, a warm and relaxed atmosphere, friendly staff and great service are all available at the Nunamiut Lodge Dining Room.
Our famous Solarium provides breathtaking views of adjacent Baker Lake.
Breakfast is served between ​7:30 AM – 9:00 AM
Lunch is served between ​11:30 AM – 1:00 PM
Supper is served between ​5:30 PM – 6:30 PM
The meal rates are as follows and are subject to change without notice:
Breakfast ​​$20
Lunch ​​​$30
Supper ​​​$50
Reservations are recommended. For supper, please reserve by 12:00 PM (noon).
For more information on the dining room and solarium, please call 1-867-793-2127 or email at nunamiut_lodge@hotmail.com